During the month of August, the weather systems that affected the country were the southwest (SW) monsoon, monsoon trough, ridge of High Pressure Area, easterlies, intertropical convergence zone (ITCZ), low pressure areas (LPAs), tropical cyclones, and localized thunderstorms.

TD "Gorio" (August 4), TS "Huaning" (August 7) and STS "Isang" (August 19 – 22) entered the Philippine Area of Responsibility (PAR) during the month. These tropical cyclones did not have any direct impact to the whole country. However, the enhancement of southwest monsoon during the first week of August brought heavy rains mostly in the western sections of Luzon and Visayas.
Derived Soil Moisture Condition (rainfed areas):
Wet – Most areas of the country

Moist – Cagayan Valley, Angat, Tarlac, Bulacan, rest of NCR, Alabat, Pagasa Island, Puerto Princesa, Cam Norte, Albay, Central Visayas, Tacloban, Maasin, Northern Samar, rest of Northern Mindanao, Zamboanga del Norte, South Cotabato

Dry – Casiguran, Maputi, Aborlan, Masbate, southwestern part of Leyte, rest of Zamboanga Peninsula, rest of SOCCSKSARGEN

Most parts of the country generally experienced way below to below normal rainfall conditions (Figure 1) except in some areas of Luzon and CARAGA where patches of near normal rainfall conditions were observed. BSU, La Trinidad Agromet Station in Benguet recorded the highest total monthly rainfall (1048.9 mm), followed by Baguio City Synoptic Station in Benguet (965.6 mm).
Near to warmer than average surface temperatures were generally felt in most parts of the country (Figure 2). The highest maximum temperature for the month of August has reached 39.1°C in ISU, Isabela Agromet Station (August 7) while the coldest temperature of 15.8°C was recorded in Baguio City (August 20 and 22).
El Niño Southern Oscillation (ENSO) - neutral condition was present across the tropical Pacific Ocean.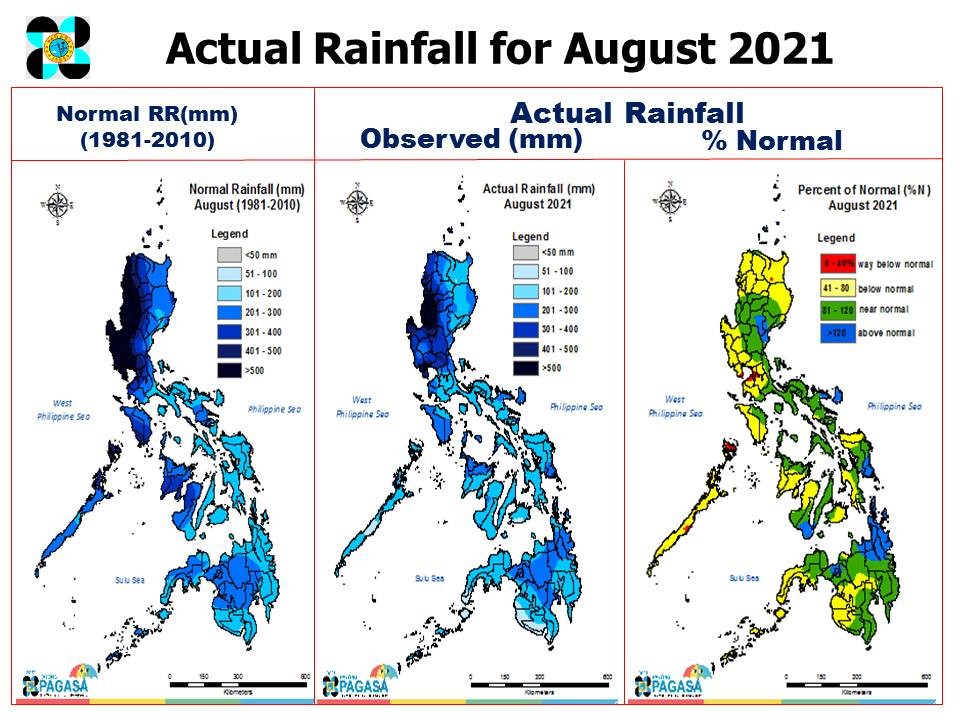 Land and Seedbed Preparation (

irrigated and rainfed farms)
Rice and corn fields, other cash crops, including urban gardening, and upland farms - in most parts of the country.
Planting and Transplanting

(broadcasting / direct seeding – for rice, corn, conventional way/ by rows - other cash crops)
Type I Climate

(western parts of Luzon, Mindoro, Negros and Palawan) – lowland rice, monggo, lettuce, mustard, sweet pepper, peas, patola, ubi, sweet potato, sitao, soybean, chayote, ginger, ampalaya, and string bean

Type II Climate

(Catanduanes, Sorsogon, eastern part of Camarines Norte and Camarines Sur, eastern part of Quezon and Aurora, eastern part of Leyte and eastern part of Northern Samar, large portion of eastern Mindanao) – upland rice, rainy season corn, tapilan, patola, ampalaya, eggplant, okra, patola, cowpea, sweet potato, cassava, gabi, ginger, cadios, sitao, monggo, cabbage, batao, tomato, bountiful bean, squash, ginger, radish, ubi, and sweet peas

Type III Climate

(western part of Cagayan, Isabela, Nueva Vizcaya, east of Mt. Province, southern Quezon, Bondoc Peninsula, Masbate, Romblon, northeast Panay, eastern Negros, central and southern Cebu, part of northern Mindanao, most of eastern Palawan) – lowland rice, corn, cassava, carrot, ubi, okra, arrowroot, ginger, cabbage, ampalaya, sitao, chayote, upo, tomato, gabi, eggplant, patola, tapilan, sweet pepper, and sweet potato

Type IV Climate

(Batanes provinces, northeast Luzon, western Camarines Norte and Camarines Sur, Albay, eastern Mindoro, Marinduque, western Leyte, northern Negros, and most of central and southern Mindanao) – lowland rice, corn, gabi, squash, carrot, okra, patola, tomato, ubi, ginger spinach, chayote, beans, lettuce, mustard, upo, ampalaya, celery, and sweet potato
Establishment Stage

(germination, pre-emergence, seedling, transplanting)
Rice and corn – in field areas of Ilocos Region, Cagayan Valley, Central Luzon, Laguna, Batangas, Mindoro, Marinduque, Bicol Region, Western Visayas, Bohol, southern Cebu, and Northern Samar

Other crops such as peanut, lettuce, celery, chayote, upo, garlic, sweet potato, radish, pechay, mustard, okra, patola, cucumber, soybean, gabi, and squash – in most vegetable farm areas of the country
Vegetative Stage

(tillering, head development)
Rice and corn – in most irrigated and rainfed farm areas of the country

Other crops such as tomato, garlic, pechay, sweet potato, chayote, mustard, radish, gabi, soybean, sweet peas, lettuce, squash, patola, sweet pepper, celery, cucumber, garlic, okra, peanut, and upo – in most vegetable farm areas of the country
Flowering Stage

(Heading – rice; Tasseling/Silking – corn)

–

in different irrigated and rainfed farm areas of the country
squash, okra, cotton, tomato, bountiful beans, celery, cauliflower, banana, cabbage, sweet pepper, cucumber, sweet potato, patola, ampalaya, sweet peas, upo, gabi, radish, dragon fruit, patani, beets, guyabano, lettuce, mangosteen, rambutan, papaya, and peanut– different farm areas of the country
Maturing/Ripening/

Harvesting Stage
Corn, seguidillas, pechay, lettuce, tomato, cucumber, jute, squash, ubi, ampalaya, potato, peanut, sweet pepper, string bean, patola, gabi, tapilan, arrowroot, carrot, condol, chayote, talinum, upo, cabbage, sweet potato, eggplant, calamansi, mango, santol, banana, guyabano, avocado, dragon fruit, cassava, sugarcane, muskmelon, ginger, okra, papaya, watermelon, and garlic
string bean, soybean, chayote, pechay, avocado, carrot, monggo, eggplant, sweet potato, upo, tomato, lettuce, watermelon, ubi, jackfruit, pineapple, guyabano, cabbage, cucumber, okra, melon, corn, mango, gabi, cassava, and white potato
sweet pepper, corn, cassava, jackfruit, durian, eggplant, chayote, yellow corn, rambutan, siniguelas, pechay, cabbage, banana, string bean, peanut, lettuce, celery, cucumber, upo, garlic, okra, papaya, bountiful beans, ginger, sweet peas, guyabano, squash, tomato, watermelon, radish, pomelo, and pineapple
Farm Operations

: (some farm activities are affected by monsoon rains and the Community Quarantine in some areas)
Regularly cleaned creeks, canals and ditches to provide natural flow of water specially during heavy rainfall;

Repaired/renovated farm houses, canal embankments and levees that were weakened by heavy rains and floods;

Harvested, stored and delivered fresh produce in the marketplace;

Prepared land and seedbeds, planted, transplanted different crops;

In this time of COVID-19 pandemic, the agricultural technicians, farmers, and farm enthusiasts may continue to share and browse some tips and additional knowledge on potential crop production, early warning for pests and diseases infestations and water management strategies for specific areas by visiting the website of SARAI project (

https://sarai.ph) and

search KlimAgrikultura by ACIAR project. For daily farm weather and climate conditions, they can also visit PAGASA website (http://bagong.pagasa.dost.gov.ph/) and/or access the Payong PAGASA mobile application

.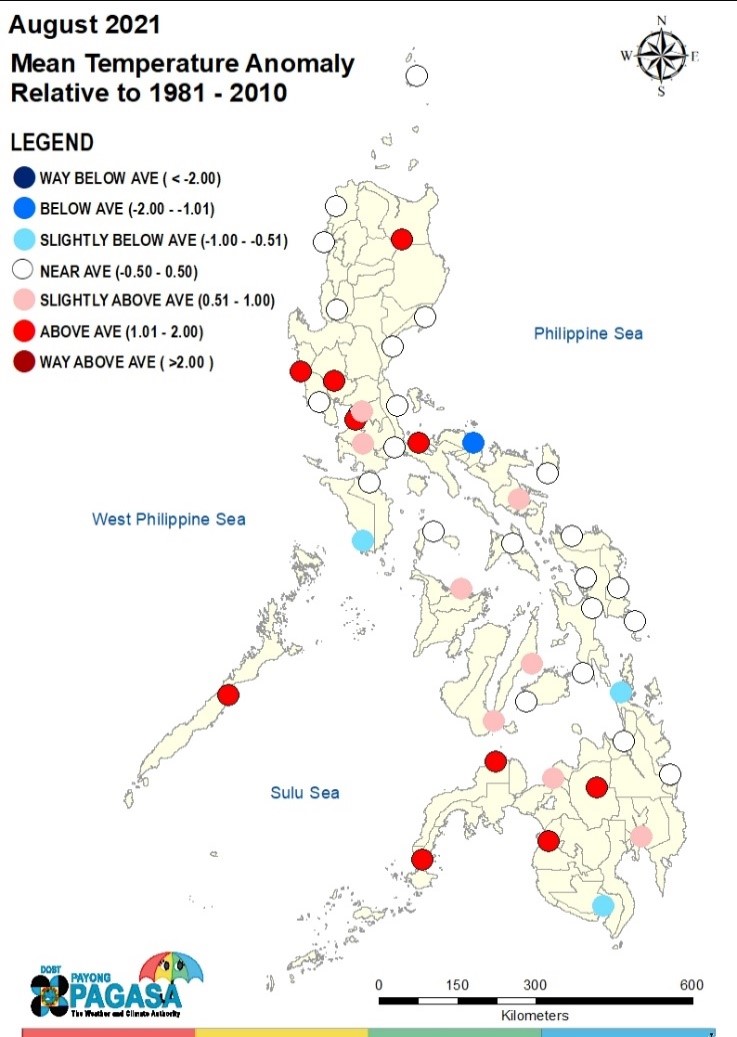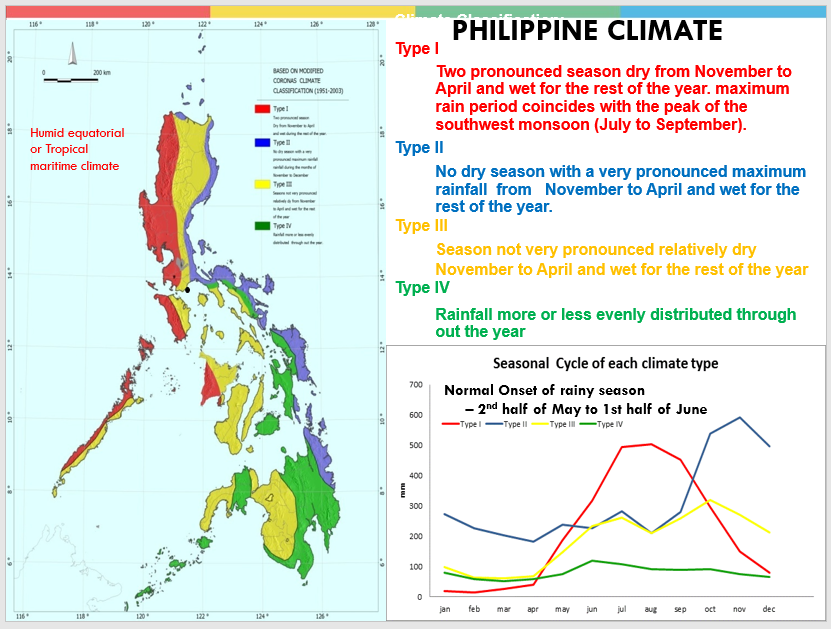 The weather systems that will likely affect the whole country during the month of September are the low pressure areas (LPAs), southwest monsoon, intertropical convergence zone (ITCZ), easterlies, localized thunderstorms, and two or three tropical cyclones (TCs) may enter or develop inside the Philippine Area of Responsibility (PAR).
Generally near normal rainfall conditions are expected in most areas of the country except in Cordillera Administrative Region (CAR), Ilocos provinces, Davao de Oro and Davao Oriental where above normal rainfall conditions will be experienced (Figure 4).
Near average to above average temperatures will be experienced over the entire archipelago (Figure 5).
Luzon will have extreme temperature range of 13.0ºC – 26.4ºC for upland farms while 16.1ºC – 38.6ºC for other farms in Luzon; the lowland farms in Visayas will have 20.4ºC – 36.7ºC; and the upland farms in Mindanao will have 16.0ºC – 33.9ºC and 19.1ºC – 37.7ºC for lowland farms.
ENSO-neutral condition is present in the Tropical Pacific and expected to persist through July-August-September season. However, La Niña is more likely to start in October-November-December season and predicted not to persist long enough to constitute a La Niña event.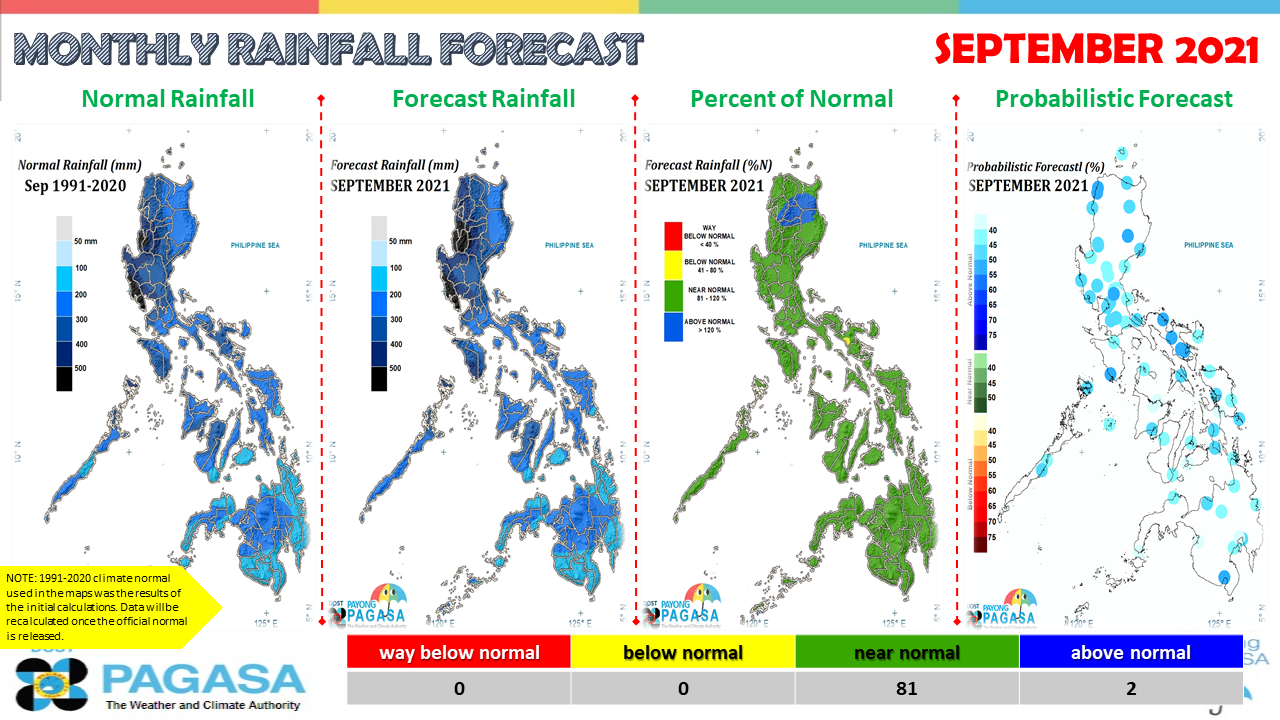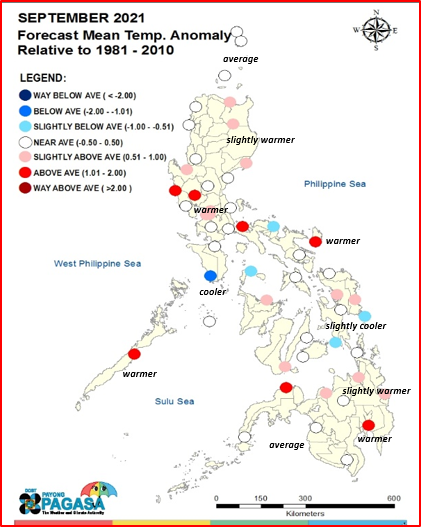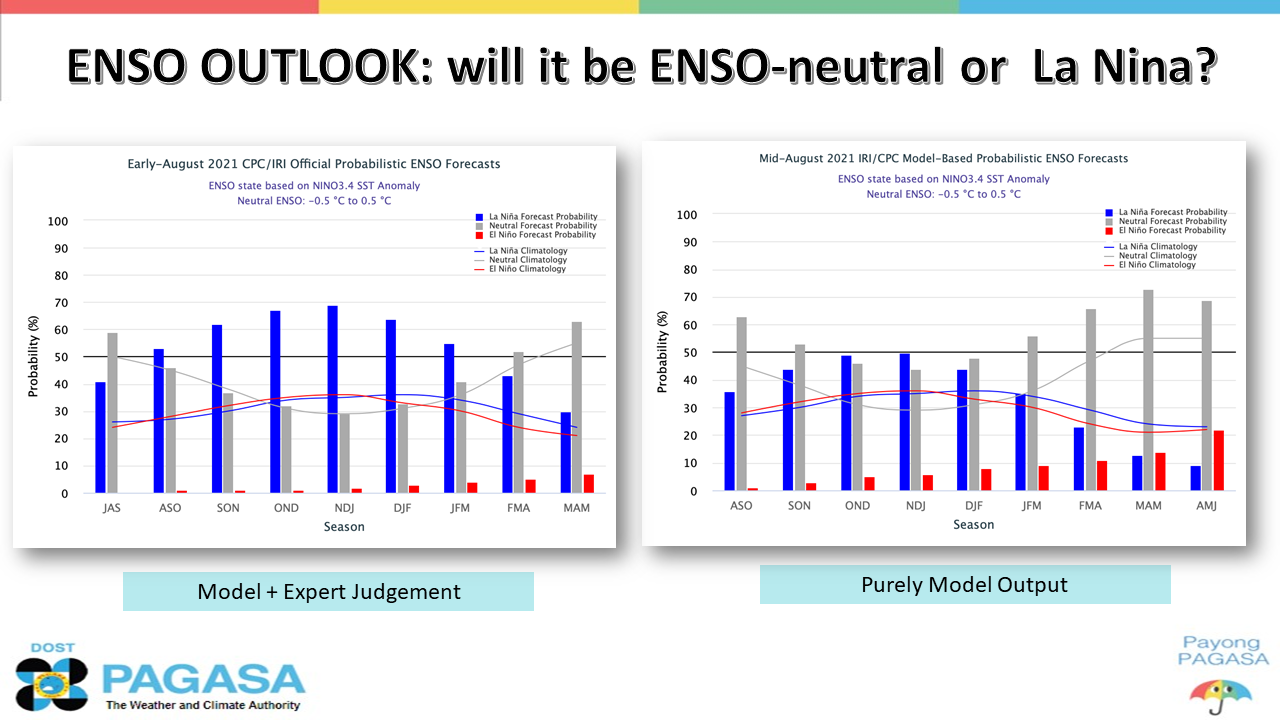 RAAM / SCF




MAM




JAM




EDNA L. JUANILLO




Chief, CAD